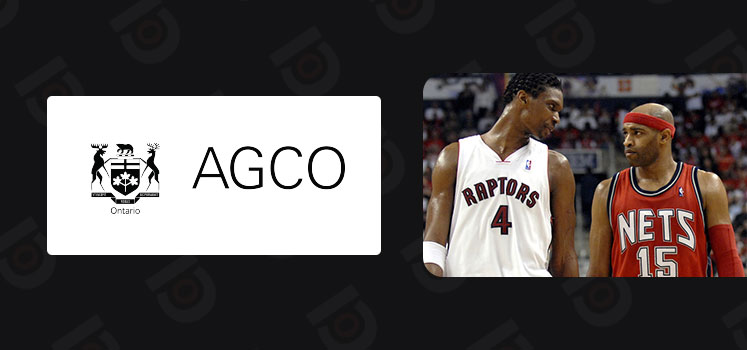 Raptors Stars AGCO Canada
Two of Toronto Raptors' standout players have recently cast a spotlight on the murkier aspects of Ontario's flourishing sports betting industry, revealing a disturbing trend of heightened fan hostility, influenced heavily by their gambling results.
● Just a year ago, Ontario made a groundbreaking decision within the Canadian landscape by unveiling a regulated digital gaming environment named iGaming Ontario (iGo).
● While this initiative undoubtedly led to an explosive increase in active player accounts, bringing in significant financial benefits, it also inadvertently exposed professional athletes to increased harassment, particularly when their on-field performances didn't align with betting expectations.
Chris Boucher, during a candid online discussion, shared a racial slur he received, a direct consequence of not meeting a fan's betting expectations. Fred VanVleet, another notable player, spoke about the emotional weight of handling vitriolic messages daily. These personal accounts have now become a grim reminder of the unintended social consequences that accompany a betting craze.
With Ontario's endorsement of the digital gaming ecosystem, an astounding $35.6 billion in wagers flooded the market. Basketball, given its immense popularity, naturally became a primary focus for bettors. As a result, basketball players, especially those in high-profile teams like the Raptors, found themselves at the centre of a relentless storm of betting-driven emotions.
The Alcohol and Gaming Commission of Ontario (AGCO), acknowledging the concerning events revolving around the Raptors, made it clear that while they oversee the gaming market's integrity, issues of direct harassment fall outside their purview, suggesting police intervention for such matters.
● AGCO remains steadfast in its mission – to ensure that Ontario's gaming environment is transparent, honest, and above all, protective of its players. Their robust guidelines, especially around advertising (which explicitly prohibits targeting younger audiences), underscore this commitment. However, with the recent incidents, questions arise about whether enough is being done to protect the athletes themselves.
● A cause for concern is the overwhelming presence of gambling ads during sports telecasts. With esteemed sports personalities like Wayne Gretzky and Connor McDavid endorsing these platforms, a potent blend of sports admiration and betting aspiration is created. This fusion, while commercially advantageous, can lead to an unrealistic intertwining of sports performance with gambling outcomes, intensifying fan reactions and expectations.
● Furthermore, there's a pressing need to address the sheer accessibility of betting. The constant barrage of ads, combined with real-time betting updates during broadcasts, can inadvertently create an atmosphere where the game's true essence is overshadowed by the betting frenzy.
While Ontario's gambling industry boasts impressive fiscal benefits, the experiences of the Toronto Raptors players are a poignant reminder of the deeper societal challenges that can arise. As the line between passionate sports fandom and aggressive betting blurs, there's a dire need for stakeholders, from regulatory bodies to sports organizations, to collaborate on strategies that preserve the sanctity of the sport while ensuring the well-being of its players. The athletes, after all, should remain the heart and soul of any game, not become casualties of a betting-driven culture.
Related News Articles
ESPN Enters the Sports Betting Arena in Partnership with Penn Entertainment
NeoGames' BtoBet Announces Entry into North American Market Through PlayAlberta Sportsbook Deal
Apollo, an Online Gambling Operator, Faces Fines by AGCO for Lapses in Social Responsibility
Gateway and OLG Ink Affiliate Marketing Agreement
Exploring First Nations-Provincial Relations, Labor Unrest, and Online Gambling Patterns
Last Updated: September 7, 2023