How to Win at Roulette
In this guide, we will look at everything you need to know about how to get better and start winning at roulette.
This is one of the most beloved of all casino games in the world and most people are familiar with how the game works, even if they have never played it before. Who hasn't seen the iconic imagery of the roulette wheel spinning, the ball bouncing from number to number until it lands at its final destination – and the winner celebrating as he rakes in all his casino chips? And yes, we all want to be that lucky player!
However, you need to know what you are doing first so, if you are new to the game, then we will provide you with all the information you need to have the very best chance of winning.
So, let's take a look at some of our top tips and strategies that will help you start your winning journey.
How to Get Started
Before you can think about playing and winning, you need to know how it works because winning at roulette will require both dedication and patience.
Furthermore, no matter how much you know and how much advice we give you, this is still a gambling game – and there is still a house edge that will favor the casino. The house edge depends on the type of game you play and the bet you make… which we will look at later.
So, that being said, there are plenty of ways you can improve your chance of winning, but we can't guarantee that you will win every time you play! Our guide will help you to avoid the wrong types of bets and to bet on those that give you the best winning odds.
Focus on the Beginning, Middle and End
To improve your chance of winning, you need to focus on every area of the game. This starts before you even begin playing. To get it right, you need to get your strategies in place before you even consider putting money on the game. That is why our how-to-win roulette tips will focus on what you need to do before you play, while you are playing and after you play – and whether or not you should consider employing any of the popular roulette strategies.
All the roulette strategies we look at will help you to increase your wins over time. This means patience. No panicking if you have a losing streak – and don't get carried away with the big wins. Sometimes there's a lot to be said for smaller wins and lots of them.
Play Roulette Safely
One of the most important things to consider before you get started is that you need to play safely. This means that you need to play the best games at the best casinos. If you play in a land-based casino, then it's likely that it is fair and transparent as wheels can't be rigged and the casino can't hold back your win.
However, if you are looking to start playing online roulette, then you need to make sure that you are playing at a safe, licensed and reputable online site. This means that you need to make sure that it has been licensed and regulated by a recognized governing body and that the games have been certified as fair and honest, having had their RNGs tested by third-party companies.
Even if you start winning all your bets at roulette, that's no good at all if the casino won't pay out your money. So, even before you get started, this is essential to look at.
Another essential piece of advice before you get started is to remember that playing roulette should be about fun and you should never rely on it as a money-making exercise. Winning money from your games should simply be the icing on a very tasty cake.
Check Out the Roulette Game Before You Play
There are all different variations of roulette – with different tables offering different minimum and maximum stakes. So, don't just randomly pick a roulette table and start playing. If you do see a game that you like the look of, look to see how it is played before placing a bet on it.
If you are playing at a land-based casino, then just watch for a while and see what the other players are doing so you can learn more about the game and the rules. If you are playing online, then maybe have a few spins in demo mode and see what to expect.
If you are new to roulette betting, it's probably good to start at a quieter table so that there are fewer distractions. If you bet online, then simply make sure you are playing in a quieter environment to avoid outside distractions.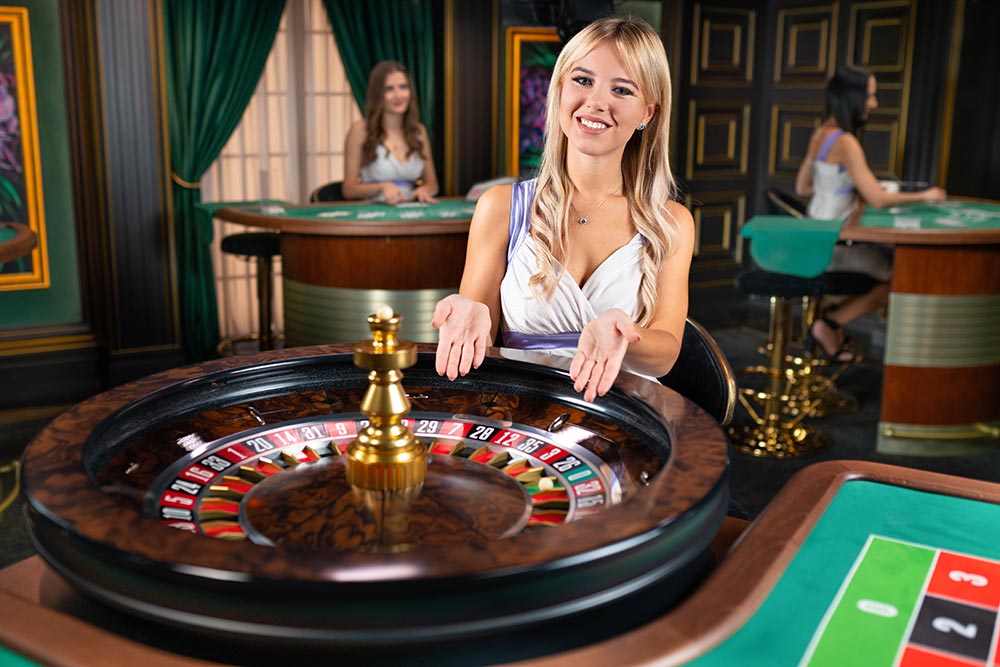 Practice Your Roulette Betting Strategy Online for Free
The best way to start playing is by practicing first and most online casinos will allow you to do this for free in demo mode. Not only does this allow you to practice your roulette strategies and see which one works best for you, but it also allows you to try out different variations of the game to work out the differences, scope out the different variations and payouts and get a feel for the games you like the most.
By heading over to the free-play roulette tables, you have a chance to become familiar with the layout of the table, the different bet payout structures, and, of course, the roulette wheel itself. Getting started is simple as all you will need to do is open an account on the site (claim a deposit bonus if you want) – and just open up the games in demo mode and it doesn't have to cost you a penny.
Ultimately, the very best way to win is by knowing what the game is and how to play it – and if you can learn for free, then even better!
Play European Roulette Rather than American Roulette
The first step to making a profit when playing roulette is to pick European roulette over American Roulette. If you want to win at roulette, you should never pick American roulette.
There is one big difference between the game and that is the wheel itself. The European roulette wheel just has one single 0. However, the American roulette game has both a 00 and a 0 – which means one additional pocket. As the 0 and the 00 are green (neither black nor red) and neither odd nor even, these are the pockets that give the casino a house edge. So, this means that the house edge in American Roulette is double the house edge in European roulette… and we all know that the higher the house edge, the less chance you have of winning.
Despite the difference in pockets and house edge, there is no difference in the payouts. This means that if you bet on the correct number then you will receive a payout of 35:1. If you bet correctly on red, black, odds or evens then you will still be paid out at 1:1
So, given that you have a better chance of winning on the European roulette wheel, and you can expect the same payout as when you play at an American roulette wheel, you would be crazy to choose the American variant over the European one if you are playing to win.
Picking the Right Roulette Wheel: Table Limits
Aside from choosing European over the American version of the game, you also need to know which European roulette game to play – as there will still be numerous choices available to you.
Choosing the right game before you start playing is the best way of maximizing your chances of winning.
Firstly, it's important to note that most European roulette tables will offer you the same odds and chances of winning – so, there aren't 'special tables' to choose from that pay out more. However, what you will need to look at before you play are the table limits of the different games you can choose from.
These limits state the minimum and maximum bet you are allowed to place on the table – and you need to pick one that best suits your bankroll and your budget.
The best games for those new to the game are those with low minimum bets. Often, you can play from between $1 and $5 on one spin, which is pretty much the industry standard. When starting out, you are better to start at the lowest wager possible before moving up. There is no need to go big straight away.
As soon as you start becoming more confident with the game, have worked out your best roulette strategy and are starting to enjoy more positive results and successes, then you can move up tables and play at one with a higher minimum bet and maximum bet. That's when the excitement gets even greater.
How to Improve Your Outcome at Roulette Games
So, now you know that you need to avoid the American roulette games and play at a table with bet limits that suit your bankroll.
Now you need to get playing – and to start upping your winning chances when the money is on the table and the ball is in play. You have a table, your chips and it's playtime… but how do you bet and win?
Make Sure You Choose the Right Stake
As stated above, you should choose your table based on its minimum and maximum bet size. So, knowing that, you need to decide how much to bet.
Well, this very much depends on how much you have to play with and the size of your bankroll – along with how much time you want to spend playing the game. You can start working this out for yourself…
The average roulette wheel in an average game will spin around 40 times per hour. If you have set aside 2 hours to play (and intend to spend all that time playing), then you will need to have enough money to play at least 80 rounds. You need to consider the fact that you may lose every one of those 80 spins. This is a game of chance and anything is possible. As such, in order to guarantee that you have enough money to last 80 spins, you need to assume that you will lose every game.
Obviously, the chances of this happening are very slim, but this is the only way to guarantee play time.
So, let's look at what your stake should be if you want to play for two hours. Well, if you want to play at minimum stake at a minimum bet table then you would need $1 x 80 = $80.
But that might not be how you want to play… as it can get a bit boring. If you have a budget of $80 and are playing on a $1 minimum bet table, then you might instead consider placing bets between $5 to $8 per spin – which combines the length of a game with your odds of winning.
Ultimately, your bets should be based on your confidence. You might want to start on $1 bets but when you start winning, you could increase your bets. If you start seeing a few losses, decrease your bets.
Making the Right Bet Types
You want to win money right? So, you choose the bet which pays out the most right? Wrong. As we stated earlier, if you make a straight-up bet (inside bet) on a single number, then you will be paid out at 35:1 (plus your initial bet will be returned. So, if you bet $5 on a number and won, you would get $175 in winnings plus your $5 stake returned.
Although this sounds like a nice bet, if you want to win at roulette more steadily, then this isn't the way to do it.
The best way of winning more is by winning more games. This means choosing less risky bets and focusing on outside bets. While these won't lead to record-breaking, bank-busting wins, if you keep betting on odds/evens, high/low or red/black then you have a better chance of winning – almost 50%.
These are the best type of bets in roulette and certainly the ones that a new player should focus on. These bets not only give you almost a 50% chance of winning every single bet, but they can double your money.
If you are serious about winning at roulette, forget superstition or lucky numbers. Don't think about gut feelings or messages sent from above, bet with your head and sensibilities. Your best chance of winning on roulette is by making the bet with the best chance of winning. It's that simple.
Don't Spend Your Winnings
If you want to walk away with winnings, then you need to consider what you do with the money after you have won it. Our advice is – don't add them to your bankroll. Put them aside and play only with the returned stake. Cashing out those wins is the best way to stay a winner.
Roulette Betting Strategies
The best roulette strategy depends on your risk factor. Here are the most popular:
The Martingale Strategy
This strategy is only for even money bets. You need to start at the minimum bet. Every time you lose you double your stake. When you win, you will recoup all your losses. However, this could prove to be expensive if you have a long losing streak – and you may even eat through your budget before landing a win.
Reverse Martingale Betting System
The opposite is the Reverse Martingale Strategy. With this, you double your stake every time you win. When you lose you return to your original stake. This offers a better chance of winning if you cut and run before you hit the loss, but it does rely on you getting a long streak of wins.
The James Bond Roulette Strategy
The James Bond strategy is one of the best roulette strategies for beginners because it is a combination of bets which will give you the best odds of walking away a winner.
This bet involves putting all of these bets down on the same round:
$10 on 0
$50 on 19-36
$140 on 13-18
You will only lose your bet if the ball lands on a pocket between numbers 1 and 12.
How to Win at Roulette FAQs
Is There a Difference Between the Martingale and Grand Martingale Strategy?
+
Yes, the Martingale strategy requires you to double a losing bet until you win. However, the Grand Martingale strategy requires you to double your losing wager and then add 1x your starting bet to the new bet.
What Are the Best Bets to Make in Roulette?
+
The best bets to make if you want to win are outside bets such as red/black, odds/evens and high/low bets.
Can A Roulette Wheel be Fixed?
+
No. At a land-based casino, the roulette wheel cannot be tampered with and if you play at an online casino, you should only play on a game that has been tested for fairness.
There is no way to guarantee a win and no way for a casino to guarantee you don't win.
What is a Straight Up Bet?
+
This is betting on one number which pays out at 35:1
Can I Play Roulette for Free?
+
Yes. If you play online roulette at a top casino, you will be able to practice your roulette strategies and play roulette for free in demo mode.