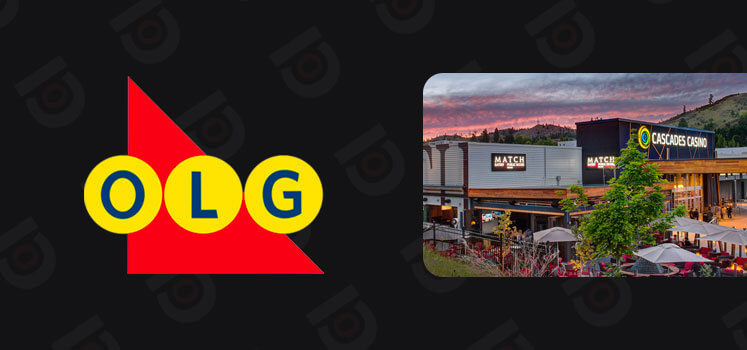 OLG and Gateway Affiliate Deal
The Ontario Lottery and Gaming Corporation (OLG) and Gateway Casinos & Entertainment (Gateway) are pleased to announce a new affiliate marketing arrangement. As part of the project, Gateway will advertise OLG's iCasino slots, table games, including live casino, and digital sportsbook, PROLINE+, to Gateway clients in Ontario via OLG.ca. Building on their partnership, Gateway and OLG have agreed to advertise their respective iCasino and iSports platforms to Gateway clients. Gateway manages 14 casinos for the Ontario Lottery and Gaming Corporation (OLG) throughout Southwest, North, and Central Ontario. Gateway has been implementing an ambitious development program to build local entertainment hotspots in the communities where Gateway operates, including the launch of its iconic casinos, eateries, and bars, including the new Playtime Casino Wasaga Beach and Match Eatery & Public House.
Beginning on July 10, clients of Gateway Casino in Ontario will get a link that will quickly take them to OLG.ca, where they may enjoy their favorite table games, slots or wager on their choice sports whether at home or on the move using a laptop, tablet, phone, or desktop.
Customers of Ontario's Gateway Casino will start receiving links on July 10 that will take them quickly to OLG.ca, where they may play their favored slots and table games or place bets on their chosen sports from the convenience of their homes or while they're on the road using a laptop, tablet, phone, or desktop.
CEO of Gateway Tony Santo stated that the deal with OLG is a different approach through which they're providing top-notch client service. From the comfort of their laptop or phone, their clients may take advantage of the ease of playing their favorite games or placing bets on the big game. To keep the fun rolling in between trips to a Gateway casino, they'll deliver the action to them. via OLG.ca.
According to Duncan Hannay, President and CEO of OLG, this new marketing partnership with Gateway is another illustration of how they are collaborating together with their esteemed partners to build on the power of the OLG brand and improve the gaming experience for customers. As a result, the company is able to provide more to the users and province of Ontario.
By implementing the OLG's PlaySmart program in every gambling location, Gateway demonstrates its commitment to responsible gambling in Ontario. OLG.ca and all Gateway stuff in Ontario and BC are RG Check accredited. Gateway will keep putting responsible gambling programs into place at all of its sites across Canada in collaboration with OLG and other collaborators in government.
With 29 gaming locations in British Columbia and Ontario and two more in Edmonton, Alberta, Gateway Casinos & Entertainment Limited is among the biggest and most varied gaming and entertainment corporations in Canada. With regard to its overall portfolio, Gateway now has 7,000 employees and offers 369 table games, 14,284 slot machines, 95 restaurants and bars, and 564 hotel rooms. Gateway has expanded and diversified its product line thanks to a multi-pronged expansion strategy, which includes creating its own restaurant and casino brands. This has significantly enhanced the gaming customer experience while luring in new clients. Halley's Club, Atlas Steak + Fish and Match Eatery & Public House are a few of Gateway's exclusive brands.
Last Updated: August 29, 2023