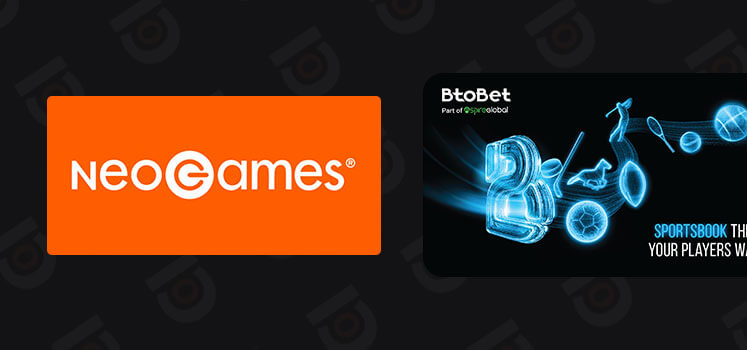 NeoGames Enter North America
In a novel move, NeoGames S.A. collaborates with Alberta Gaming, Liquor & Cannabis (AGLC) to introduce state-of-the-art online sportsbook features on Alberta's singular authorized online gambling platform, PlayAlberta.ca. Stepping up as a game-changer, NeoGames S.A., acclaimed for its next-gen iLottery and iGaming platforms, has unveiled its strategic sportsbook partnership via its offshoot, BtoBet. This union with Alberta Gaming, Liquor & Cannabis offers BtoBet an inroad into North America, laying the groundwork for top-tier sportsbook amenities, especially for Alberta's populace.
Given its stature as the lone sanctioned online gambling portal in Alberta, PlayAlberta.ca's prominence is elevated through synergies with industry powerhouses like NeoPollard Interactive.
This entity is instrumental in crafting and safeguarding PlayAlberta's digital gambling landscape.
The confluence of BtoBet and PlayAlberta spells mutual benefit. BtoBet, recognized for its cutting-edge sportsbook solutions, will spearhead the enhancement of PlayAlberta's online betting suite. A seamless transition to BtoBet's contemporary sportsbook tech is on the horizon, with the changeover anticipated to conclude by the third quarter of 2023.
BtoBet's stellar reputation is rooted in its effortless adaptability, stringent regulatory compliance, and agile go-to-market strategies. These facets are envisioned to supercharge the partnership, bestowing PlayAlberta with a competitive edge.
At the forefront of NeoGames, Tsachi Maimon, the President and Head of iGaming, shares his optimism about this pioneering initiative. Maimon's belief in BtoBet's sportsbook prowess shines through. He foresees an evolved betting panorama for enthusiasts, enriched by diverse offerings, ranging from hockey-centric bets to player prop bets and concurrent game parlays. Further, Maimon sheds light on the excitement surrounding region-specific betting avenues, emphasizing leagues intrinsic to Canada and spotlighting feats of Canadian sports icons.
In an era of digital evolution, there's a burgeoning appetite for reliable, innovative, and tech-savvy online sports betting avenues. The fusion of NeoGames and PlayAlberta exemplifies the confluence of trust, futuristic tech, and user-centric approaches. From intuitive interfaces to a plethora of betting options, the players are set for a redefined betting experience. BtoBet's foray into North America flags the commencement of a refreshed sports betting chapter in the territory.
Alberta stands on the cusp of a transformative phase in online sports betting, fostered by the synergistic efforts of NeoGames, BtoBet, and PlayAlberta. Anchored in technology, regulatory prudence, and player enrichment, this alliance is poised to redraw the map of the North American betting arena.
Related News Articles
CasinoCanada Reveals Key Insights into the 2023 Canadian Gambling Market: Industry Set for Growth
Anticipated Growth of the Online Gambling Industry Fueled by North America's Influence
GGPoker and Live Nation Canada Collaborate to Enhance Fan Experiences
Gateway and OLG Ink Affiliate Marketing Agreement
Ontario's First Year of Legal Gambling Surpasses $1.48 Billion in Revenue
Last Updated: September 5, 2023