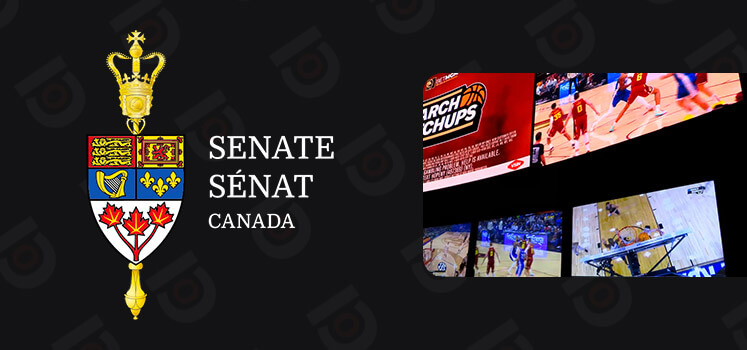 Senator concerned about sports betting ads
Sports betting has been legal in Canada since 2021, but the rules on how it can be advertised do not exist. Senator Marty Deacon proposed legislation incorporating a national framework regulating sports betting advertising across the country. Bill S-269 was introduced on the Senate floor on Tuesday.
Why is S-269 in Discussion?
The current sports betting landscape in Canada is quite regulated. However, the promotions around the same are not restricted. It has raised several queries regarding the safety and responsibility of sports betting for audiences. Senator Deacon hopes to regulate the torrential gambling advertisements that Canadians are subjected to on a daily basis. The key purpose of doing so is to prevent exposure amongst younger groups and vulnerable groups from developing unhealthy gambling addictions.
Commenting on the reality of the situation, the senator indicated that a regular Canadian who loves enjoying sports cannot do so without running through a barrage of such advertising.
What Will S-269 Change?
S-269, as legislation, is placed quite well when it comes to safeguarding communities and specific demographic groups. According to Senator Deacon, the goal of the legislation is to bring together multiple stakeholders and provinces to:
Suggest possible measures to regulate advertising of sports betting in Canada through tentative means of limiting or banning the participation of celebrities, celebrity athletes, in such advertisements, restricting the use of non-broadcast advertising, or limiting the number, location, of such advertisements, etc.
Promote research through intergovernmental information dissemination for the prevention and diagnosis of minors involved in problematic gambling activities and support measures for the impacted population.
Create and define a national standard for the prevention and diagnosis of problematic gambling and addiction to implement support measures for those that are impacted by the same.
Assign the CRTC as the responsible body for reviewing regulations and policies to assess their adequacy and effectiveness in reducing the incidence of harm resulting from the proliferation of advertising and sports event betting.
Senator Deacon further added that countries like the U.K., Italy, Spain, etc., have already introduced legislation along the same lines. She urged that waiting and watching for such complex problems to plague Canada would be shortsighted and may result in severe trauma and other issues associated with the same.
Is a Ban Possible?
Whilst Senator Deacon viewed the ban as something that would help, even she indicated that an absolute ban would be impossible. She compared it to that of the ban on tobacco advertisements, which has only led to an increase in the usage of the same irrespective.
Hence, the goal of the ban is to contain advertising and keep it under the purview of the state. The reason for doing so includes the fact that the current tonality of advertisements is very addictive and, if absolutely banned, would be the last impression of sports events betting in the country. It may cause a rise in illegal activities around the same time.
Senator Deacon indicated that the goal is to reshape the social idea of sports events betting and marketing it as something that would prevent the creation of addicts. Hence, reviewed policies would aim to create advertisements that do not aid and abet addiction.
Senator Deacon, who represents Ontario's Waterloo region as an independent, has been responsible for coaching athletes who have been involved with Team Canada at 15 Olympic, Commonwealth, and Pan Am games since 1994 and is not the only expert who is concerned.
David Hodgins, the director of the University of Calgary's clinical psychology program, indicated that sports betting is something as risky as potentially addictive behaviours/substances. Hence, it must be attributed as a potentially harmful activity. Alongside Hodgins, Bruce Kidd, former Olympian and an emeritus professor at the University of Toronto, indicated that sports gambling could lead to several problems, including significant harm, runaway debt, stress for families, low self-esteem, anxiety, depression, and even suicide in some cases. He also cited the American Psychiatric Association, which classifies addiction to gambling as a "Gambling Disorder", the only non-substance-related disorder classified similarly.
Related News Articles
Potential Impact of Proposed Canadian Gambling Bill, S-268, on Kahnawàke's Historic Gaming Industry
An In-Depth Guide for Online Casino Players: Exploring Gambling, Prizes and Taxation
New Legislation in Canada Seeks to Involve First Nations in Sports Betting
Exclusive Betsafe Bonus Offer – C$2500 + 200 Free Spins
Canadian Gambling is in The Spotlight Again With The Gaming Summit
How Does Ontario Ensure Responsible Gambling
Last Updated: July 25, 2023