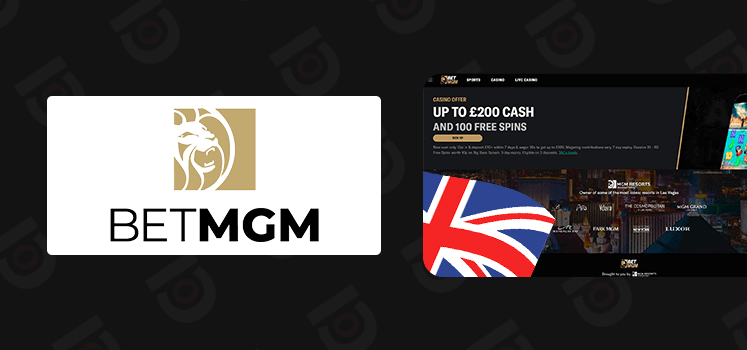 Bet MGM Opens in UK
On August 17, 2023, MGM Resorts International announced the opening of its BetMGM online gaming and sports betting franchise in the UK. This announcement marked the beginning of MGM Resorts' ambition to take the BetMGM name abroad. The new worldwide BetMGM-branded product makes use of LeoVegas' technology and infrastructure, a Swedish gambling startup that MGM Resorts purchased last year.
Bill Hornbuckle, CEO and President of MGM Resorts, said that as a reputable name in the iGaming and sports betting industries, BetMGM welcomes foreign players to their platforms designed just for them. The statement made today marks a significant advancement in the brand's strategy for global expansion, which has been developing quickly ever since we purchased LeoVegas.
Customers can take pleasure in amazing brand-new features including sizable and regular jackpots, loyalty bonuses, eye-catching and enticing sports promotions, and exclusive slots with BetMGM UK's online offering. In order to provide a compelling and secure online platform in the UK, the latest sports and gambling experience makes use of the BetMGM name and MGM Resorts' unparalleled legacy entertainment in Las Vegas.
The product is now accessible through desktop and mobile web, and before a national media debut in mid-September, more functional improvement, including mobile applications, is planned. Visit betmgm.co.uk for more details.
According to Gary Fritz, President of MGM Resorts International Interactive, "the company had great success with the BetMGM brand in the U.S. and Canada and in other markets, they are optimistic that they can repeat similar success, starting with the UK." The UK has a developed online gaming industry, and according to us, the BetMGM name will have a clear relevance for both clients for iGaming and sports bettors.
The partnership among Entain and MGM Resorts, BetMGM, LLC, will continue to run the BetMGM business in the US and Canada using the platform and technology supplied by Entain. Currently, LeoVegas is accessible in nine European and Canadian countries.
With locations across the country and abroad, MGM Resorts International is the S&P 500® global entertainment company that offers top-notch hotels and casinos, cutting-edge meeting and conference facilities, amazing live and cinematic entertainment experiences, and a wide selection of dining, entertainment, and shopping options. Through its portfolio of Las Vegas-inspired brands, MGM Resorts develops memorable, immersive experiences. Boasting some of the most famous resort brands in the business, the MGM Resorts group includes 31 distinct hotel and casino locations across the world. Market-leading brands like BetMGM and partypoker are used by the Company's fifty-fifty venture BetMGM, LLC to provide online gaming and sports betting in the United States. The business's subsidiary LeoVegas AB also provides these services in a number of European countries using market-leading brands.
Through the prospect of an integrated resort in Japan, the Company is presently seeking focused expansion throughout Asia. MGM Resorts' workers across the world are pleased that their business has been named World's Most Admired Companies® by one of the FORTUNE® Magazine.
Related Articles
The Convergence of Tech and Canada's Casino Sector
50th Jackpot Awarded in Canada by IGT's Powerbucks and Wheel of Fortune Slots
Contemplating a Ban on Sports Betting Ads in Canada: A Significant Concern Beyond Doping
How Would Montrealers' Online Behavior Shift with Legalized Sports Betting?
Quebec's Potential Legalization of Sports Betting Could Open Up a New Market in Canada
Last Updated: September 22, 2023