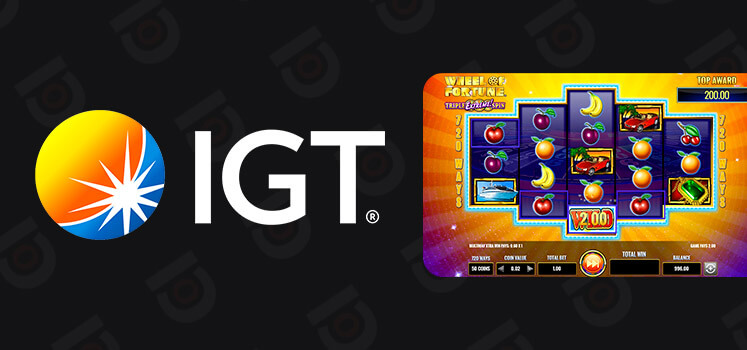 Wheel of Fortune - Jackpot Awarded in Canada by IGT
According to International Game Technology, its Powerbucks and Wheel of Fortune slots paid three million-dollar jackpots or more in North America during the month of June. With this fresh round of jackpots, IGT Powerbucks has officially given out its 50th prize in Canada worth more than $1 million.
The following jackpots were won last month by lucky Powerbucks and Wheel of Fortune slot players:
An online Powerbucks slot player from New Brunswick, Canada, won CAD $1,533,377 on June 25 while playing Wheel of Fortune Hawaiian Getaway.
At the Michael Gaughan Airport Slots at the Harry Reid International Airport in Las Vegas, Nevada, on June 27, a Wheel of Fortune player won $1,330,134 while playing Wheel of Fortune Triple Double Emeralds.
On June 30, a Canadian in Ontario who was playing Wheel of Fortune Latin Getaways online won CAD $1,029,546.
Since its launch in Canada in 2016, IGT Powerbucks slots have already paid out 50 jackpots of $1 million or more. Since its introduction in 1996, IGT's Wheel of Fortune slot machines have made over 1,100 millionaires and paid out over $3.5 billion in prizes.
The well-known Wheel of Fortune TV show, which has more than 25 million weekly viewers, served as the inspiration for the Wheel of Fortune slot machine. It is marketed as "America's Game" and has won seven Emmy Awards, including one for "Outstanding Game/Audience Participation Show" in the daytime category.
In May, three million-dollar-plus jackpots on Wheel of Fortune slots were won, coming to more than $6.3 million. The lucky gamers who won the million dollar jackpots were from New Jersey, Wisconsin and Las Vegas. Read more about big casino wins.
Earlier this year, IGT and Sony Pictures Television agreed to a ten-year licensing deal that gives IGT exclusive rights to the Wheel of Fortune brand across gaming, ilottery and iGaming as well as non-exclusive rights to cast Wheel of Fortune for free-to-play l casinos. The agreement will be in effect starting January 1, 2025, and ending December 31, 2034.
The company extended its international commercial operations in 2006 when it acquired Gtech, giving its personnel a presence in a number of nations throughout the world. IGT operates in more than 100 countries and works with a wide range of ethnic groups and countries with differing degrees of local labor regulations.
International Game Technology (IGT), the largest producer of slot machines in the world, was to be acquired by Gtech for a total price of $6.4 billion, which included $4.7 billion in notes and $1.7 billion in debt, in July 2014. The Gtech moniker was ditched in favor of IGT after the firms merged under a new holding company with headquarters in the UK.
Gtech and IGT merged in April 2015 to create Gtech. International Game Technology PLC will be the name of the new united firm.
IGT announced in February 2022 that it was entering Washington State as part of a multi-year agreement with the Kalispel tribe.
Last Updated: August 7, 2023