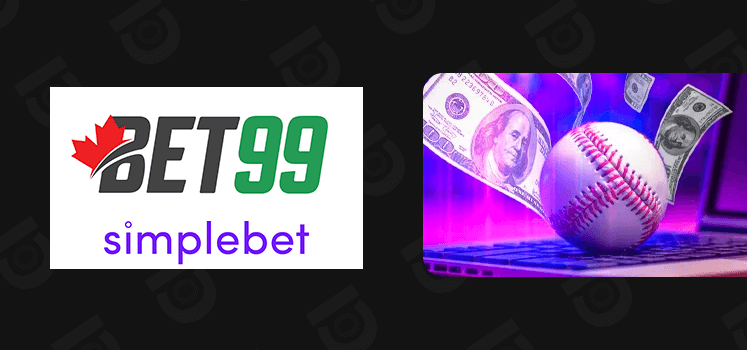 Microbet Canada
The Canadian sports betting domain is on the brink of a significant transformation. With Bet99, a notable player in Canada's sportsbook realm, joining forces with global tech pioneer Simplebet, the thrilling concept of micro-betting is set to take Ontario's avid punters by storm.
● Bet99's track record is testament to its continuous quest for innovation.
● Their partnership with the National Hockey League to birth a groundbreaking free-to-play game is a case in point.
● Their decision to welcome micro-betting through their association with Simplebet promises to be another feather in their cap, potentially rewriting the Canadian sports wagering narrative.
Simplebet's vantage point, as shared by CEO Chris Bevilacqua, offers a clear perspective. The collaboration isn't just a business venture; it's a manifestation of their overarching vision to infuse state-of-the-art technology into the world of sports wagering, making it more dynamic and interactive.
Jared Beber, Bet99's Chief Executive, is not one to mince words. He sees this partnership with Simplebet as more than just an alliance. It's a paradigm shift, a mission to redefine and reshape the sports betting experience for their patrons. By fusing Simplebet's technological prowess with Bet99's deep understanding of the Canadian market, they aim to craft an unparalleled and immersive betting journey.
But Simplebet's innovations aren't confined to Canadian shores. Their influence is evident across the American landscape as well, with fruitful partnerships with entities like ClutchBet in Iowa and Colorado. Their liaison with industry behemoths like Hard Rock Digital underscores their global vision. The endeavour to simplify and enhance the user banking experience through their tie-up with Skycrown reiterates their unwavering commitment to customer satisfaction.
Furthermore, the recent stride made by Simplebet in the US, with their groundbreaking partnership with Amelco, showcases their ambition to lead the micro-betting wave across North America. Their aim is clear: solidify their position as global trailblazers in micro-betting technology.
The unveiling of micro-betting in Canada, courtesy of the Bet99-Simplebet union, is more than just the introduction of a new betting format. It represents the dawn of a new era, where the lines between active participation and passive viewership blur, enhancing the overall sporting spectacle.
At its core, micro-betting differs vastly from conventional sports betting. Traditional betting focuses on outcomes like match winners or score predictions. In contrast, micro-betting zeroes in on specific, real-time moments within a sporting event. Think along the lines of wagering on the team to get the next corner in a soccer match, anticipating the next point in a tennis rally, or forecasting a batter's next move in a baseball game.
The inherent real-time nature of micro-betting provides spectators a continuous engagement platform, transforming passive viewing into an adrenaline-charged experience. This nuanced approach offers numerous betting opportunities throughout a single event, heightening the excitement manifold.
With the sports betting domain continually evolving, it's ventures like these that ensure the industry remains rejuvenated, always offering something fresh to the punters. The Bet99-Simplebet partnership is not merely a collaboration; it's a vision of the future, a promise to ensure that the world of sports betting in Canada and beyond remains thrilling, innovative, and always centered around the enthusiast.
Related Articles
Ontario Casino Dealer Faces Charges Over Alleged Collusion with Gamblers
Ontario Limits Athlete Involvement in Digital Gambling Promotions
Jakob Chychrun of Ottawa Senators Named Community Ambassador for Future Hard Rock, Rideau Carleton Casino
Legal Battle Ensues as Trading Platform 'Stake' Takes on Crypto Casino
Last Updated: October 20, 2023