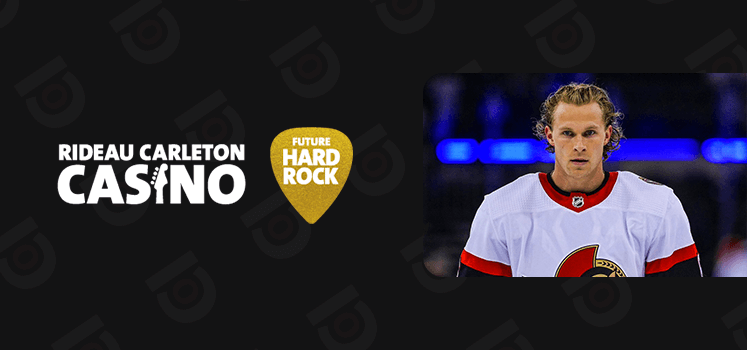 Jakob Cychrun Hard Rock Ambassador
A recent development has revealed that Jakob Chychrun, defenseman for the Ottawa Senators, has been named the newest Community Ambassador for the soon-to-be-rebranded Rideau Carleton Casino, Hard Rock.

● Recently joined Senator Chychrun, aged 25, will play a pivotal role in advancing community-driven initiatives, notably mental health, in tandem with the team at Hard Rock Ottawa. The partnership will also allow Chychrun to partake in exclusive, unparalleled experiences.

● Chychrun conveyed his eagerness for the alliance, recognizing the mutual dedication between him and Hard Rock in backing mental health endeavours. Helen MacMillan, General Manager of Rideau Carleton Casino, Future Hard Rock, mirrored this sentiment, accentuating Chychrun's acquaintance with the Hard Rock identity and its unity with Hard Rock's fundamental principles.

● Chychrun will collaborate with the Hard Rock Ottawa team to endorse community projects, including mental health initiatives, which are significant to both Jakob and Hard Rock. He will also back 'priceless experiences,' including taking part and showing up in exclusive VIP member events, such as special dinners, golf matches, and other private gatherings.

● This collaboration is an ideal match for Chychrun, who spent his childhood in South Florida, the location of Hard Rock International's worldwide headquarters, and where his dad, ex-NHL player Jeff Chychrun, was born, which is in proximity to Ottawa, in LaSalle, Quebec.

● In his initial role as Community Ambassador, Jakob participated with the Rideau Carleton Casino staff at a VIP and team member gathering on a Saturday evening, where he assisted in handing over a $10,000 check to the Alzheimer Society.

This alliance forms part of Rideau Carleton Casino's extensive two-year transformation plan into the Hard Rock Hotel & Casino Ottawa. The initiative is geared towards broadening the globally acclaimed hospitality brand's reach to a broader Canadian demographic while addressing urgent community concerns, such as mental health consciousness.

The alliance is expected to markedly heighten awareness surrounding mental health initiatives and positively impact the community. It also signifies an encouraging commencement to Chychrun's endeavours to cultivate relationships within the region.

In collaboration with its associate, the Ontario Lottery and Gaming Corporation (OLG), Rideau Carleton Casino, Future Hard Rock, is steadfast in endorsing responsible gaming at its establishments and reciprocating to the community via local sponsorships and nonprofit organizations.

The inauguration of Chychrun as Community Ambassador entailed his proactive involvement in a recent event for team members and VIPs. During this occasion, Chychrun aided the Rideau Carleton Casino team in awarding a $10,000 donation to the Alzheimer Society. This gesture marked his official introduction as a Community Ambassador. It showcased the influential initiatives envisioned as part of this alliance.

Moreover, the alliance is in harmony with the continuous efforts of the Ontario Lottery and Gaming Corporation (OLG), which has allocated approximately $95 million to the City of Ottawa since 2000 for hosting the Rideau Carleton Casino within the National Capital Region. Additionally, over $1 million is invested annually in local sponsorships and nonprofit entities, positively impacting local communities and their inhabitants, including a fruitful collaboration with the Ottawa Senators organization.

The designation of Jakob Chychrun as Community Ambassador for the Rideau Carleton Casino, Future Hard Rock, represents a momentous stride towards bolstering mental health consciousness and community growth in the Ottawa vicinity. This alliance, aligned with Hard Rock's foundational values, epitomizes a mutually advantageous situation for the community as excitement escalates towards the launch of the Hard Rock Hotel & Casino Ottawa in early 2025.
Related Articles
Legal Battle Ensues as Trading Platform 'Stake' Takes on Crypto Casino
College Football Kickoff Marked by Betting Controversies and Increased Oversight
Gateway Casinos Grieves the Passing of Pioneering CEO Tony Santo
Wizard Games Provides Content for the Atlantic Lottery
Last Updated: October 12, 2023