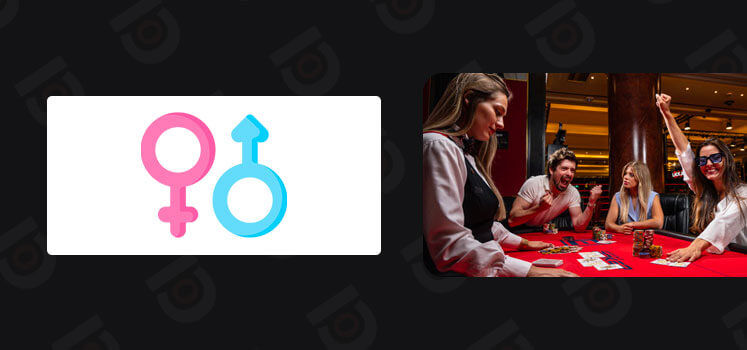 Man or Woman survey in Canada
Long-held perceptions of gambling and casinos often leaned towards a largely male-dominated environment. Traditionally, brick-and-mortar gambling establishments echoed this sentiment, with the majority of players being men. However, the digital age has changed this, with online casinos not just leveling but reshuffling the playing field, pulling in an increasingly diverse player base. Let's delve deeper into this evolution.
Back in the 18th century, ornate casino rooms filled with men were a common sight. Women were few and far between in these environments. Yet, as with many things, the internet has become a game-changer.
● A study in 2019 unveiled a noteworthy trend. In Canada, almost 18% of online casino enthusiasts are women.
● This number is even more impressive in Australia, where women represent almost half the online gambling community at 46%.
● In the UK, 2021 data from the British Gambling Commission further emphasized the diminishing gender divide in online gambling.
● Women, representing 41.6% of the gamblers, were just slightly outnumbered by men at 43%. These statistics are indicative of a broader global trend challenging the age-old stereotypes.
The motives and psychological inclinations behind gambling vary across genders. The allure of online casinos for men and women is underscored by a 2021 YouGov UK survey. Over 27% of female respondents expressed their thrill for winning, visualizing the dreamy jackpot scenarios. On the other hand, over 20% of male players are in it for the adrenaline rush, betting big, and playing high-stakes games. Interestingly, while men often view online casinos as a platform to hone skills and amplify earnings, women predominantly find joy in the entertaining, interactive elements, relishing the overall experience.
When we talk about specific games, gender-based preferences come into play. Strategy-driven, competitive games like Poker and Blackjack are often the favourites among men. In contrast, women gravitate towards chance-based offerings like Bingo or visually engaging themed Slots. Yet, there are games that strike a balance and appeal universally. Roulette is a prime example, combining elements of both luck and strategy, making it a favourite among diverse player groups.
The intertwining of cryptocurrency with online casinos adds a new layer of complexity. Platforms like BetFury showcase a tilt towards a male demographic in the crypto segment. Yet, a broader look at the digital currency landscape suggests growing interest among women. With women showing increasing enthusiasm for understanding and investing in cryptocurrencies, the gender dynamics in crypto casinos may soon see a shift.
The power of social media in shaping industries is undeniable. For online casinos, platforms like Twitter, TikTok, and Telegram have become potent tools. Analyzing BetFury's data offers insights: TikTok and Twitter, with their engaging content, draw the highest number of female players. This points towards the type of content women prefer – a mix of entertainment, engagement, and information.
In the rapidly transforming world of online gambling, it's clear that gender dynamics are shifting. The increased participation of women not only in traditional online casinos but also in emerging segments like cryptocurrency betting indicates a future where gendered perceptions will become obsolete. As the industry evolves, it's poised to embrace an inclusive, diverse player base, dismantling long-held stereotypes.
Last Updated: September 12, 2023